PRESS RELEASE
Emerging Markets continue to offer a wealth of attractive opportunities say leading asset managers
Emirates NBD hosts its partners UTI International and Jupiter Asset Management at Emerging Markets investor conference
Fund managers identify top opportunities for EM and global investment strategies across different asset classes
Dubai, United Arab Emirates; 20th March 2018: Emirates NBD Asset Management, Jupiter Asset Management and UTI International today jointly hosted an investment symposium at the Atrium in DIFC, covering a range of Emerging Market (EM) investment themes. The panel discussions, under the theme of "Emerging Markets: Fighting Fit", included trends and projections for the wealth management industry and were attended by leading investment analysts and financial advisors.
Suvo Sarkar, Senior Executive Vice President, Head of Retail Banking and Wealth Management, Emirates NBD Group , said:
"This morning we brought two of our global partners, who have outstanding Emerging Market and multi-asset track records, to the region, enabling our clients and regional investors to gain a comprehensive view on the investment landscape. Emirates NBD Asset Management has continually expanded its EM fund range, debt and equities, and firmly believes that now is the right time for investors in the GCC to increase their exposure to Emerging Markets. The positive outlook for EM assets, based on attractive valuations and strong fundamentals, makes it an asset class impossible to ignore for any global investor. Around 60% of the global GDP comes from EM economies and they are the engine for global growth, with the differential in projected 2018 growth rates between EM and developed markets expected to be around 3%. "
The exchange of ideas and sharing of expertise by senior figures and fund managers from the three leading asset managers included panels covering distribution, views from CEOs and opinions from specialised portfolio managers. Regional thought leadership from Emirates NBD Asset Management was complemented by international insights from Jupiter Asset Management and UTI International, in lively discussions overseen by moderators.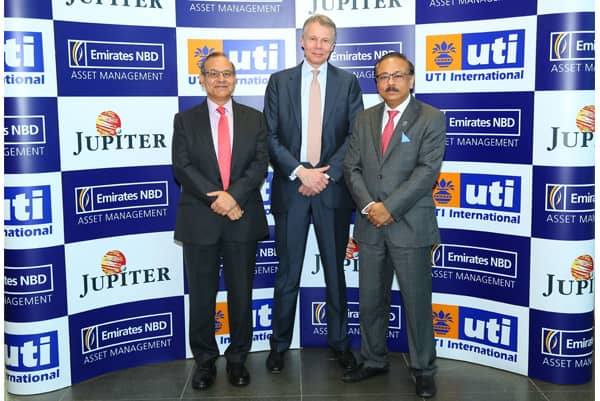 Maarten Slendebroek, Chief Executive Officer of Jupiter Asset Management commented:
"Jupiter has an established pedigree in Emerging Market investing, and a long history of allocating to third party Emerging Market managers through our successful multi-asset solutions. We have had a strong presence in the region since 2013, when we were sub-delegated to manage four funds for Emirates NBD Asset Management. Additionally, we have established several regional collaborations and continue to broaden our distribution presence in the Middle East. This local exposure enables us to explore new opportunities for more diverse investment allocation, and new inflows to our funds."
Emirates NBD Asset Management has achieved considerable success across its EM funds, with increased interest from Shari'a-compliant investors looking to access Emerging Markets. The Emirates India Equity Fund, co-managed with UTI International was launched in November 2016 and has garnered assets of $70m, having delivered 33% return to investors in 2017. The Emirates Emerging Market Corporate Bond Absolute Return Fund, which was recently awarded 4 stars by Morningstar, almost doubled in size over 12 months to reach USD 66.2 million having generated a return of 7.6% in 2017. The Emerging Market Equity Fund, which is co-managed with Jupiter Asset Management, has delivered 12-month performance of 17.92%, while the range of multi-asset Funds, also co-managed with Jupiter, are all in the top quartile both YTD and over the past year.
Leo Puri, Managing Director of UTI Asset Management Co. Ltd. said:
"India remains the fastest-growing of the world's large economies, demonstrating a high level of macroeconomic stability and fiscal discipline. These characteristics were key contributors to its recent sovereign ratings upgrade by Moody's – the first in fourteen years – a clear validation of the positive impact of economic reform and prompting increased global demand for Indian assets. Given its strong demographics, continued economic growth, constructive structural reforms and stable political outlook, Indian equities are becoming an increasingly attractive asset class amongst most global asset allocators. We continue to expand our franchise overseas through our Singapore-based entity, UTI International. Our collaboration with Emirates NBD Asset Management in managing their Shari'a compliant Indian Equity Fund is the central pillar that we seek to build further products around for the region."
The event's panels concluded that EM investment strategies continue to perform well, presenting a range of attractive new opportunities in established markets such as India, as well as potentially new markets like Saudi Arabia (KSA). An EM status upgrade by FTSE Russell is widely expected for KSA later this month, followed by an additional upgrade for KSA by MSCI in June. Panellists also agreed that EM fixed income allocation remains attractive, with the volume of debt issued by regions such as the GCC set to continue on its growth trajectory while offering attractive spreads.