Emirates NBD Named UAE's Best Bank by Euromoney
Dubai, August 2, 2015: Emirates NBD, a leading bank in the region, announced today that it had been recognised as 'Best Bank in the UAE', at the 23rd annual Euromoney Middle East Awards for Excellence 2015.
The award was presented to Abdulla Qassem, Group Chief Operating Officer – Emirates NBD, at a distinguished award ceremony held in Dubai, attended by leading figures from the banking and capital markets across the Middle East.
The announcement comes shortly after the bank posted a strong set of financial results with net profit for the first half of 2015 up 41 per cent to AED 3.3 billion.
Abdulla Qassem commented, "We are honoured to be recognised as UAE's best bank by a prestigious institution such as Euromoney. Emirates NBD set out a growth strategy to develop need-based innovative propositions and improve customer experience across retail and corporate platforms, and this has resulted in bold initiatives which set new benchmarks for the industry and robust growth. We continue with our remarkable performance across all parameters, and are well positioned to utilise our strong franchise, capital and liquidity base to take advantage of opportunities within the region."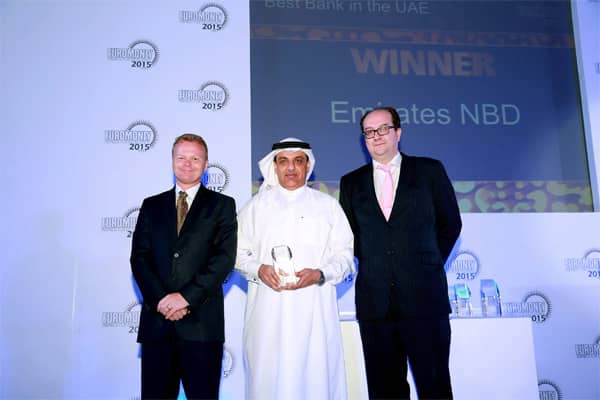 Commenting on Emirates NBD's win, Euromoney noted, "now we can look afresh at the strength of the overall franchise, which is very good indeed. Right now, Dubai is a good place to be. Emirates NBD estimates it has 14 per cent of the UAE's personal loans business, 15 per cent of auto loans, 17 per cent of credit cards and 24 per cent of debit cards, and dominates all of these categories within Dubai."
Euromoney's Middle East Awards, which have formed part of Euromoney's global Awards for Excellence programme since their inception in 1992, are seen as the benchmark for the leading firms in financial services in the region. Euromoney's award decisions are made by a committee of senior journalists, chaired by Euromoney's editor, following the receipt of detailed submissions from market participants and extensive year-round research into the banking and capital markets in the region by the publication's editors, journalists and research team.